Speed. Vision. Precision. This is Velodyne.
Providing smart, powerful lidar solutions for autonomous vehicles, driver assistance, delivery solutions, robotics, industrial, infrastructure, navigation, mapping, and more.
Velodyne Surround Sensors
Empowering 360° vision for the autonomous future
Open up a world of endless possibilities with Velodyne's range of 360° LiDAR, helping you see further in challenging weather and lighting conditions for greater safety and reliability.
'Surround' LiDAR has a 360° field of view, enabling the real-time 3-dimensional mapping of the spatial environment on all sides of the sensor. This furthers what is possible within the fields of vehicle automation and digital mapping. What could take a number of solid-state LiDAR units to achieve can be achieved with a single surround sensor. 
With the Alpha Prime, Velodyne Lidar delivers the optimal long-range sensor for autonomous mobility. The Alpha Prime's world-class combination of range, image clarity and field of view detects roadway objects with reliability and precision. This state-of-the-art sensor generates a high-quality point cloud in a wide variety of light conditions, with advanced sensor-to-sensor interference mitigation, power efficiency, and thermal performance.
Best horizontal (360°) and vertical (40°) long-range sensor
10% targets >300m typical
5% targets >180m typical
Ground plane hits >90m typical
High resolution (0.2° x 0.1°) and point density at full frame rate
Velodyne Solid-State Sensors
Reliability and Precision For The Future Of Perception
Velodyne's solid-state LiDAR sensors are sleek and easily embeddable, engineered to help solve real world problems. Designed for use in ADAS, robotics applications and much more.
Velodyne's Puck range is a family of cutting-edge, compact LiDAR sensors designed to provide precise, 360° environmental perception for autonomous vehicles, drones, and robotics. Packed with high-resolution, real-time mapping capabilities, the Puck series offers unparalleled performance, enabling safer and more efficient navigation in complex and dynamic surroundings. From its sleek design to its exceptional reliability, Velodyne's Puck range set the standard for next-generation LiDAR technology.
Puck
Proven, Versatile, Robust 
Velodyne's Puck lidar sensor (previously VLP-16) is the highest-value sensor on the market. The Puck™'s reliability, power efficiency, and surround view make it the ideal solution for affordable low-speed autonomy and driver assistance applications.
100 m range with compact form factor

 

Best-in-class accuracy and calibrated intensity

 

Best-in-class power and temperature range

 
Puck Hi-Res
Focused Performance 
A variation of Velodyne's groundbreaking Puck, the Puck Hi-Res is designed for applications requiring greater image resolution. While retaining the Puck's surround view and best-in-class range, the Puck Hi-Res™ sensor delivers a 20° vertical field-of-view for a tighter channel distribution.
100 m range with compact form factor
Higher resolution option in the Puck family
Best-in-class accuracy and calibrated intensity
Puck Lite
Specialized Excellence
Designed for applications that demand a lower weight, the Puck LITE retains the Puck sensor's surround view and best-in-class performance. The Puck LITE™ is perfect for use with drones/UAVs, backpacks and other applications requiring reliability and less weight.
100 m range with compact form factor
Lightest performance-optimized sensor
Best-in-class accuracy and calibrated intensity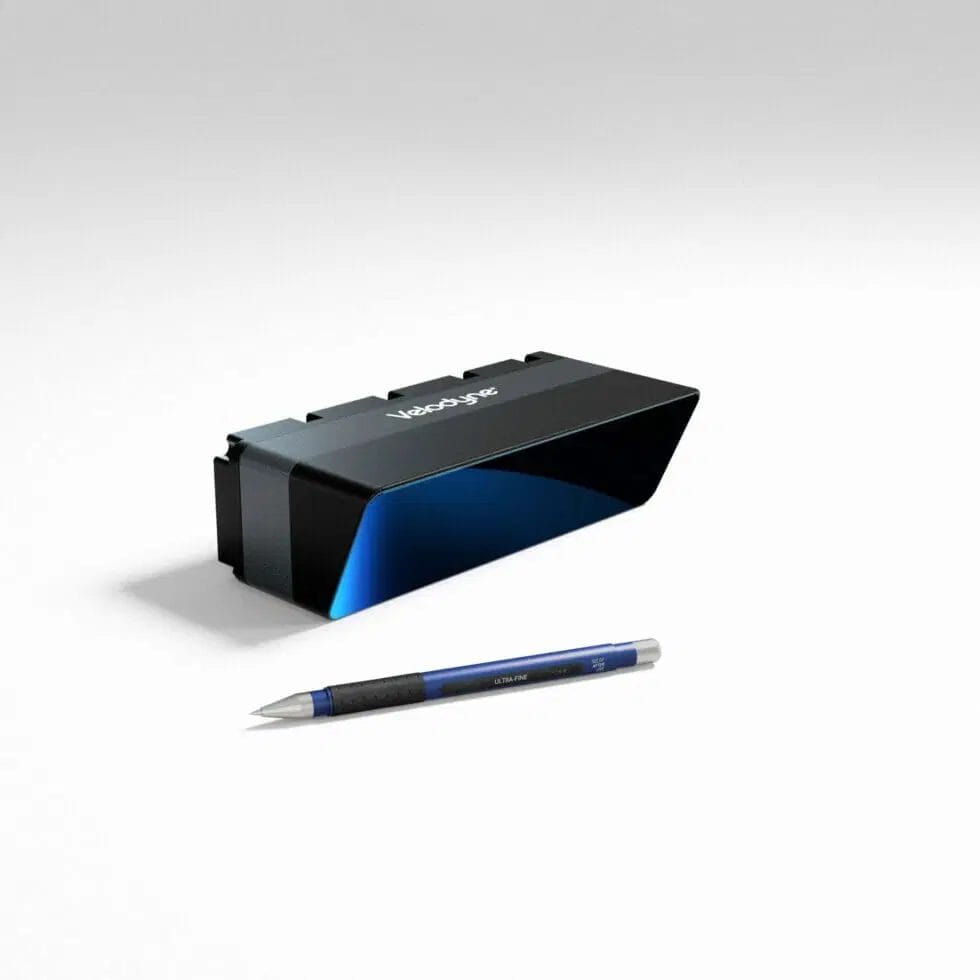 Precise Near-Field Vision for Autonomy
Designed for autonomous applications in sidewalk, commercial and industrial settings, the Velarray M1600 provides outstanding near-field perception for safe navigation in diverse environmental conditions.
Solid state lidar
Enables touchless mobile and last-mile delivery robots to operate autonomously and safely, without human intervention
Perception data at a range from 0.1 to 30 meters and a broad 32-degree vertical field of view, supporting smooth operation in crowded areas
Ideal for sidewalks, commercial and industrial settings
Compact, embeddable form factor for seamless interior/exterior integration
Indoor/outdoor and day/night performance
Configurable frame rate and resolution
Built using Velodyne's breakthrough micro-lidar array (MLA) architecture, a robust and reliable design for mass production
Have an enquiry or looking for a LiDAR demo?